Gardner-Webb University's Free Project chapter — Release the Captives — planned and executed a great event in Spring 2015. Hoping to inspire other Free Project chapters, Chris Beguhl (Release the Captives' Secretary) sent us this report:
The annual 2014-2015 Human Trafficking Awareness Week at Gardner-Webb University was a success this year. In the months leading up to this weeklong event, our club wrestled with what we wanted to accomplish through our various events. Traditionally our club, Release the Captives, was simply a human trafficking awareness club. However, after some soul-searching, we decided that we wanted and needed to do more than just spread awareness. This week, we tried to get as many people as possible involved in our events, rather than just preaching at them from a street corner. We tried to make it personal.
Monday nigh
t was key for preparation, as we produced dozens of signs, posters, and banners to post around campus for the week. When selecting quotes to post around our student center, we tried to stay true to the theme of being active. We didn't select statistics, because people don't connect to numbers. They connect to emotions and ideas. Tuesday we finalized all of our plans for the remaining three days, organizing all of our club members to run the events.
On Wednesday during the day, we finally started with an Awareness Fair! Awareness, although something that we wish to expand past, is a necessary step to achieve activism. We set the fair up in our student center, and while Release members ran about half of the booths, the other half was run by representatives from different organizations on campus, such as the Religious Department, Civitan Club, English Department, Alpha Chi, and Campus Ministries! Incorporating other organizations on campus was an effective way to spread awareness through other avenues and approach trafficking through different perspectives, such as the Civitan's booth on physical and mental disabilities' relationship to trafficking.
Wednesday night we partnered with our campus' popular a cappella gro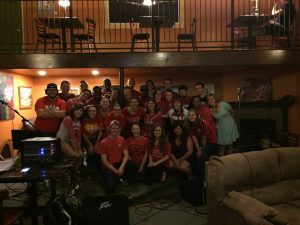 up, the AcaFelons, for the first annual AcAwareness Night. At a popular coffee shop in town, the AcaFelons sang their repertoire in different sets, allowing leaders of Release to talk about trafficking and how to do something about it between sets.We collected donations from store patrons before the last set of singing to raise money for a deaf woman who is a survivor of trafficking. She lives in South Sudan and needed financial support for her schooling.
Thursda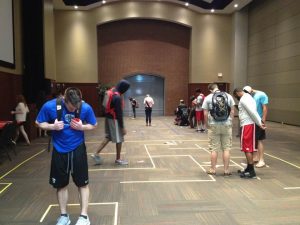 y we set up a Trafficking Simulation, with two different mazes, one for labor trafficking and one for sex trafficking. The mazes weren't hard to complete in an intellectual way, but we hoped that they would be hard to complete in an emotional way, as we included steps in each leg of the maze explaining to whoever came through directly what they would experience if they were trafficked. At the end of each maze, there was a true story that we used as models for the trafficking steps. In this way, we hoped that each person who walked through the mazes would personalize the experience in their imagination and be able to connect better to the two human beings who were trafficked and rescued.
Friday we partnered with our campus's Resident Advisors to promote Tom's Day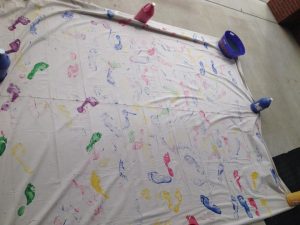 Without Shoes. You may ask, "How does raising awareness about shoeless poor people help human trafficking?" Well I'm glad you asked, as after many people asked me on that day how it related, I could tell them that poverty is directly linked to trafficking. We view trafficking as a terrible moral issue, but it is also an economic one. People who are trafficked are often poor and feel like they have no other choice, financially, other than to sell their bodies to either labor or sex. We all promoted Tom's Day by not wearing shoes, telling people why we weren't wearing shoes, having people paint their bare feet and walk across a banner, and posting pictures of everything all over social media. We also had people sign one of two giant shoes and, if possible, donate pairs of shoes for Miracle Hills Ministries in Gaffney, South Carolina. We also had donation boxes planted in a few local churches where our members attended. By the end of the day, we collected 8 garbage bags full of shoes, which rounds out to about 240 gallons of shoes.
In setting up and conducting the events of this week, we came into direct contact with other organizations, students, businesses, and community members. Our Awareness Fair mobilized various educational departments and clubs from Gardner-Webb. The AcAwareness night gave us direct partnership with Gardner-Webb's most public singing group, as well as one of the most popular shops in Boiling Springs. Our Tom's Day activities coincided with Gardner-Webb's Accepted Students Day. In 3 hours, I personally talked to probably over 200 people, including the family and friends of accepted students. Our proceeds aided education in South Sudan and poverty in South Carolina. My favorite reaction from our campus was an email that went out from Gardner-Webb Administration, directing students to put their shoes back on when inside the student center. Many of us didn't comply.
In the next year, Release the Captives will head in the direction of activism along with awareness, and I see this Awareness Week as the first step. There was a lot of awareness, but we initiated creative and new ways (that avoided the standard of listing statistics and explaining definitions) to approach the masses. We tackled trafficking from multiple perspectives, generated some tangible resources, partnered with many different people, and stepped outside the confines of our campus. We hope to create an atmosphere of acknowledgement on our campus that permeates through the community around us. By connecting to people directly, we hope to make that awareness personal to the people who we shared with. We hope that the people from the community during AcAwareness Night and from Accepted Students Day will take home their new understanding and plant seeds throughout the region. Jasmine, a faithful member of Release, summed up this week's goals by hoping that people were educated, and that they had "begun to have a heart for social activism."